10.01.2019
Results of New Year events
Hello, tankers!
New Year game events have come to the end. You can get a promo code for the bonus day of premium subscription with an additional quest: 2C8B-A298-4DBA, because we needed a long maintenance today.
The results of The Battle of Corporations
The Battle is over. «Antaeus» was able to win again, but this time  «Frontier» was especially fiercely defended and was close to victory. Nevertheless, сorporationы entered into a temporary armistice, and all active participants of the Battle based on rewards.
Last day in the game store you can buy support containers, they will be out of sale tomorrow.
Tankers who scored at least 100 points for their faction received all the awards from the list below.
Antaeus rewards:
100 000 — 20 gold boxes
500 000 — 2 containers «Spy blueprints»
1 000 000 — 50 000 crystals
1 500 000 — 10 days of premium subscription and 10 daily quests for X-crystals
2 000 000 — 5 containers «Antaeus support»
and also 4393 crystals from the winner fund.
Frontier rewards:
50 000 — 3 days of premium subscription and 3 daily quests for X-crystals
300 000 — 20 000 crystals
550 000 — 5 gold boxes
800 000 — container «Scout blueprints»
1 100 000 — 7 days of premium subscription and 7 daily quests for X-crystals
1 400 000 — container «Spy blueprints»
1 700 000 — 15 gold boxes
2 000 000 — 8 containers «Frontier support»
Top players who earned the most points for their Corporation: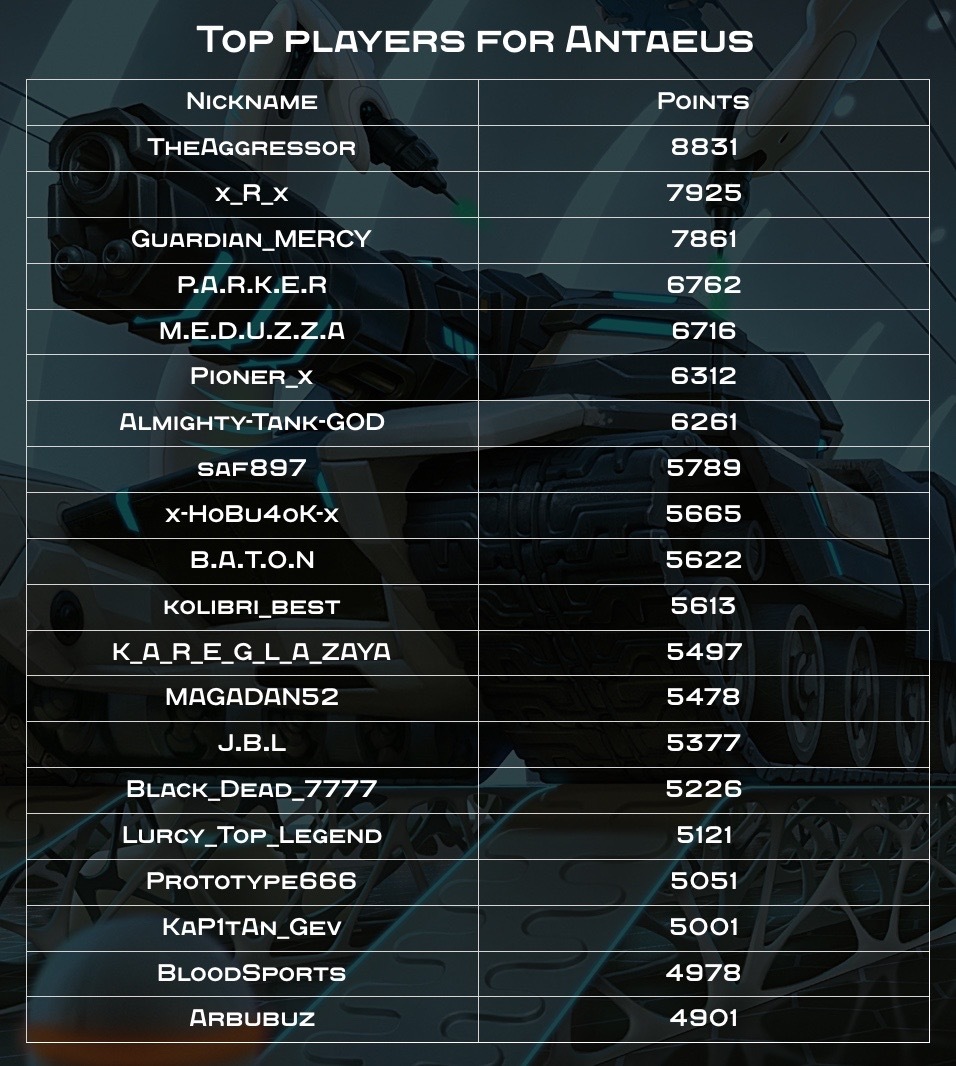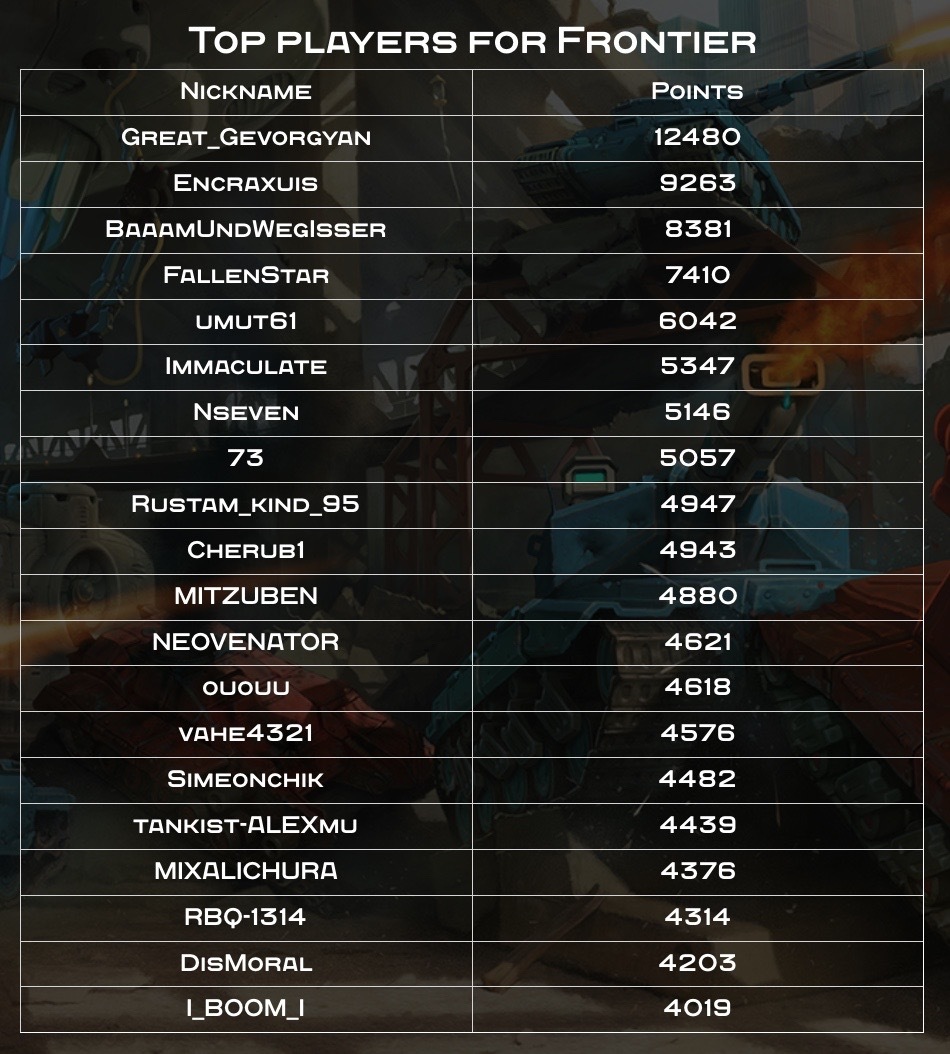 Attention! If you did not receive the reward, but you are sure that you earned 100 or more points In the Battle of Corporations, please wait, we know about the problem, and be sure to add all the rewards.
_________________________
The results of the New Year Season
The New Year rating season is also over. The owner of the paint "Hero" for the top 1 in the Boar season was Great_Gevorgyan, congratulations!
Top 50 players Of the master League of the New year season:
Graffiti with Boar became the last in a series of unique seasonal graffiti, and rating seasons will be some changes in 2019.
This season, all awards are back to previous values.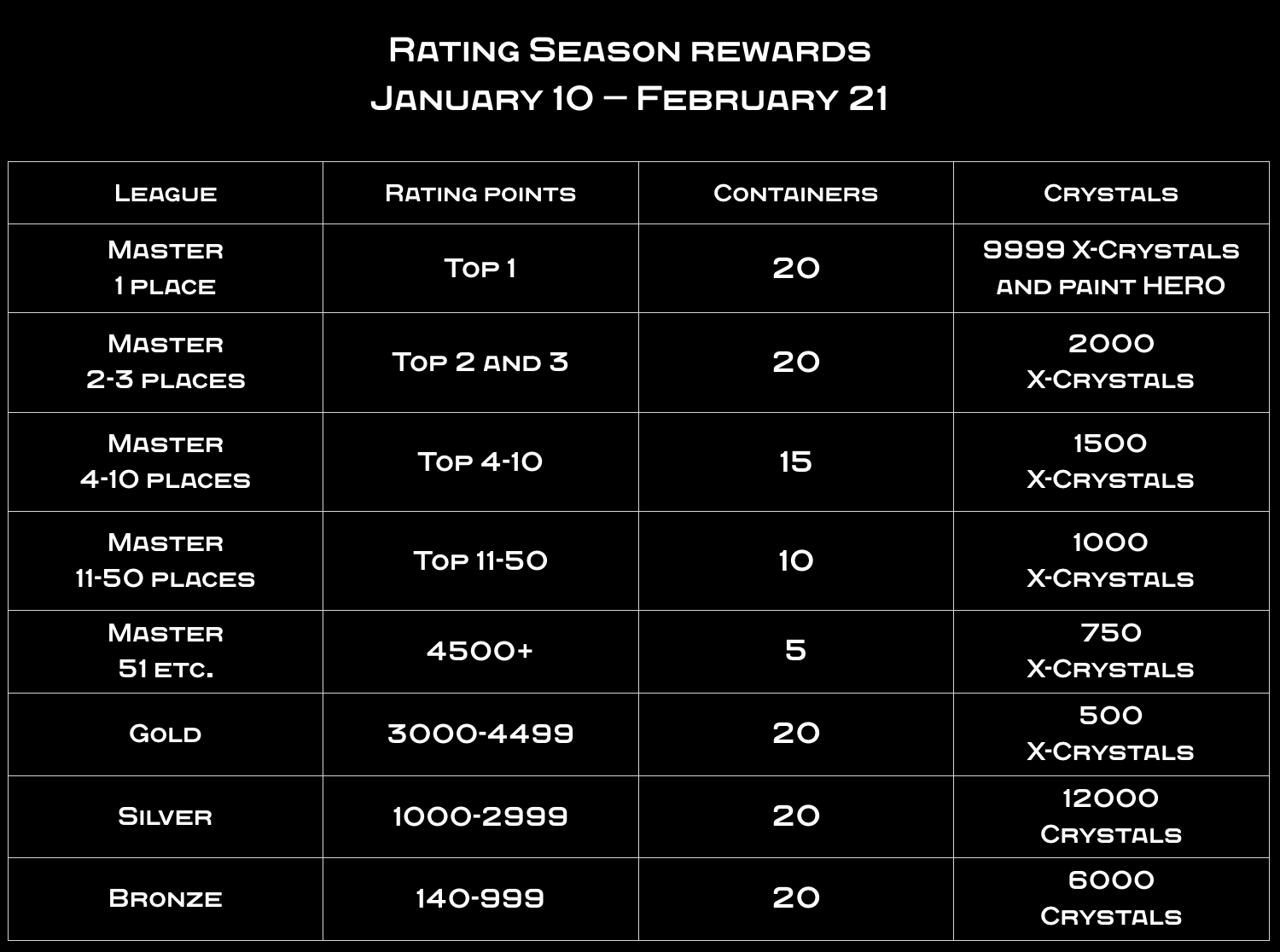 As per every end of a season, the rating of all players was downgraded as follows:
Players with less than 500 reputation points at end of the season did not lose any of their reputation points.
Players with more than 4501 reputation points had their points reduced back down to the minimum mark of 4501 reputation points.
The rest of the players (with more than 501 and less than 4449 reputation points) lost around 30% of their reputation points at the end of the season.
Please note that you must play at least 5 battles to receive season rewards.
Have a good week, tankers!